| Home | Music | Dates | Happenings | From Mitch |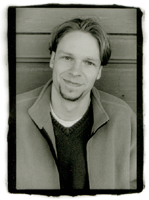 Mitch McVicker - A Biography
(written Spring 1998, updated June 2000)
by Danl Blackwood
---
Click on pics to see a larger pic with info
Brief background on Mitch...
Mitch McVicker first met Rich Mullins at Friends University. After Beaker got married and moved away, Rich invited Mitch to join him as his new writing/touring partner. Following their graduation from Friends in May 1995, they both moved to New Mexico, and the following fall Mitch joined Rich on the Brother's Keeper Tour. Almost exactly two years after the beginning of that tour, Mitch and Rich were driving to Wichita for a concert. They had just left Chicago where they were at Roswell East (Ragamuffin Mark Robertson's recording studio) putting the finishing touches on Mitch's first solo album. The accident that took the life of Rich Mullins on that fateful trip the evening of September 19, 1997 marked the end of a relationship that Mitch cherished, and the beginning of a long road of recovery for Mitch, who sustained massive head injuries, as well as other injuries.
After a couple weeks in intensive care at St. Francis Hospital in Peoria, IL, Mitch was transferred to his hometown of Topeka, KS to live with his parents, Doug and Wendee McVicker, while continuing several weeks of recovery including therapy at a special recovery hospital. I kept in touch with Mitch's dad that first couple months, and was able to visit with Mitch briefly in Topeka (also my hometown) that October (see [RichMailList 179]). I was encouraged greatly by his obvious progress. However, Mitch still had a ways to go in his recovery. In addition to the excellent professional therapy Mitch received, he also began to jog (first at home on a treadmill, later outside), and also played his guitar. He wrote songs, and worked on strengthening his voice that sustained trauma primarily from the intensive care tubes that were in his throat. In December, Mitch was well enough to begin traveling including a trip to Nashville to visit the members of the Ragamuffins as they worked in the studio recording Rich's next CD, The Jesus Record.
---

Mitch and I got together over the phone a couple times in March 1998, and then also in Nashville during Gospel Music Week 1998, to prepare the following interview to bring everyone up to speed on Mitch's current status.

Beginning to tour again...

Because of Mitch's unknown voice situation, it was been very difficult to book engagements in the beginning. They had to cancel one engagement at the end of March 98, because his voice had just not healed as much as he had hoped. During that week of GospelMusic 98 in Nashville,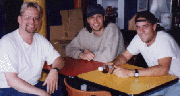 Mitch had a couple visits with a voice specialist at Vanderbilt, who he hoped would help his quest to improve his voice. Right after GMA, Mitch, Michael Aukofer, and Eric Hauck began rehearsals in anticipation of touring as a trio, The Kid Brothers.
David Smallbone, Rebecca St James' dad and manager, contacted Mitch's manager to get the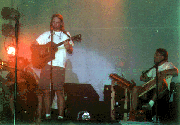 wheels rolling on a great opportunity. Mitch was able to do a "short set" in the middle of three Rebecca St James concerts in May of 1998 - sort of a "getting back on the horse" so to speak. He was accompanied by Michael and Eric (Eric had previously toured with Rebecca). The first couple nights in Michigan were a bit rough, and very nerve racking. The third evening was in Indianapolis and though there was very little advance notice, there was a pretty good turn out of fans who were there especially to see Mitch. Mitch's parents were able to make it, and they said it was a bit of "teary-eyed" adventure. Go to [RichMailList 205] for a couple reviews of the third of those three nights. It is mentioned in those reviews, that a flyer was passed out entitled "Mitch McVicker, In His Own Words." Click here to read that first letter and others from Mitch.
New CD and Web Page...

While in Nashville, I was able to meet Keith Bordeaux, Mitch's then manager. Mitch and Keith spent quite a bit of time visiting with record companies, and they decided to independently release his solo CD. Mark Robertson (who co-produced Mitch's CD with Rich) immediately began re-mixing the CD to attempt to have it ready for sale by Cornerstone 1998.
A couple months before the accident, Mitch and I had discussed setting up a web page and mailing list for him, and even played phone tag that whole week right before the accident trying to confirm a meeting to finalize those plans. Mitch had also started collecting addresses during that '97 summer tour, but that process was also interrupted after only one mailing. Finally on June 21, 1998, the Mitch McVicker Official Web Page was launched (and then exactly two years later, had a major "face-lift").
After touring as a duo for a year with Brad Layher, Cobra Joe from This Train will joining them to make it a trio starting June 23, 2000. See the Dates Page for all the latest info.
So now we begin to get a glimpse of the eon-at-a-glance calendar that God uses. When we look back over that first year after the accident, it's hard to believe the progess Mitch accomplished, considering how things began. I praise God for His mercy, and for allowing Mitch to share that all-too-brief time with Rich. I praise God that He continues to touch Mitch's life, and does not spare His healing hand. I pray that God will continue to touch our lives with Mitch's music, and that He will continue to bless you - my extended cyber family.


| Return to top | Article | Interview | Mitch's Words |



| Home | Music | Dates | Happenings | From Mitch |



Last modified: June 21, 2000