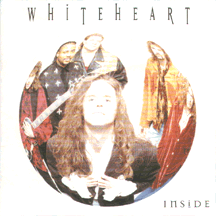 Whiteheart Inside
1995 Curb Records
Music Review

Review by Danl Blackwood

click here for the discography page
for sound clips and other info
Inside is the first project for Whiteheart with their new record company, Curb Records, and the maturity of their music and ministry is clearly demonstrated by their ability to speak to the everyday issues of this journey unbelievers simply call life, but believers call life this side of the cross. Curb is offering to Whiteheart a new opportunity to break the barriers of distribution that sometimes can stifle Christian music. With two of the singles, "Even The Hardest Heart" and the title track "Inside" already on the Christian charts, Curb plans to release a single (as yet undetermined) to the mainstream market this month.
With two previous strong albums like Tales Of Wonder and Highlands, I wondered how they would follow them up. Just seconds into the shear power of the first track "Inside", newcomer John Thorn on bass (and, of course, Jon Knox on drums) made short work of any concerns I had about the rhythm section changing with former Whiteheart bassist Anthony Sallee leaving. The overall sound is a very different than the very produced and layered sound on the previous albums. This was more of a clean, live sound. Producer Ken Scott had never heard anything of Whiteheart's previous work (except one time through Highlands), and brings a really fresh new sound. This album is going to sound better live than any other album. There isn't much at all that cannot be duplicated live. The only down side to this, is that there wasn't as much vocal work on this album as before. When I asked Rick Florian about that, he said a couple times during the recording he would push for more vocal arranging, but Scott would stand his ground.
This album is definitely a return to the raw sound that Freedom gave us. I could liken it to the sound and energy of groups like 77's and King's X. However, the very noticeable difference between these groups and Whiteheart is the message. Mark Gersmehl and Billy Smiley remain the primary composers, but everyone is getting more involved, especially guitarist Brian Wooten, who shares composing credits on half the songs. I should say at this point that Wooten's guitar work has really matured over the last few years. On the ballad "Speak Softly", the acoustic work, along with Gersmehl's lyric and vocals, is almost haunting. The solo in this song is reminiscent of the majestic work of Toto's Steve Lukather.
Florian's strong-as-ever vocals told stories that range from loneliness and pain to anger and fear to invitation and hope. However, I would say the overall theme can be summed up in these lyrics from "Come One Come All":
No walls or barriers
Not for members only
It's a kingdom without end
So come in as you are
The broken and the lonely
Your heart must be born again
There are 10 tracks on Inside, and musically the range is similar to previous albums, with most of the album being heavier, and a few ballads. Though on Inside, the rock songs rock harder, and the ballads are more emotional and piercing. I would recommend this album not only to current Whiteheart fans, but also to all those who have ever complained that Whiteheart could never be a real rock band, because they are a keyboard based band. If that's been your impression, you're in for a special treat on the new rhythm section based Whiteheart.
---
Go back to Danl's Reviews Page
Go back to Danl's Music Page